Picture Sunday
Hello, Sunday nighters. Yes, it's here and on time this week, no Jell-O at all involved, welcome to another edition of Picture Sunday.
Tonight's round of Picture Sunday contains a few shots I had from weeks past. They didn't make it into the final cut. So welcome to Picture Sunday - The Outtakes Edition.
Our first picture comes from the week of my daffodils. My dreaded daffodils, who bloom once a year, say hello, then immediately die and litter up my yard. By the way, this past Friday evening was spent in the front yard pulling out weeds, dead 'dils, and as many bulbs as I could upend in hopes they won't show their faces next year.
Anyway, that very day I took the daffodil photos I went around back of the house and what should I see but a few ducks ambling around the yard.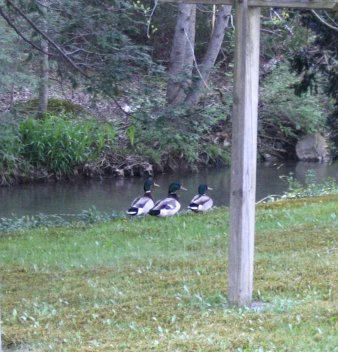 With their backs to me. I tried not to take it personally, but it could be why they didn't make the cut a few weeks ago.
Last week, the week of the delayed Picture Sunday, I had (I'm sure you remember this) several pictures of the Hackensaw Boys. However, I caught something afterwards on my camera as we were walking back to our car. It's just not something one sees every day, a person pushing a refrigerator through the historic district.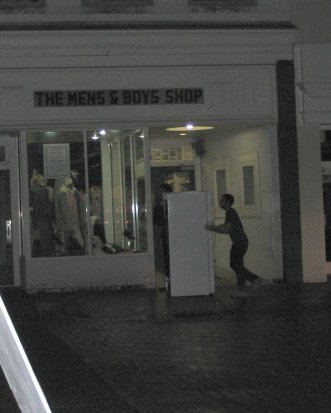 Where was this fridge going? What was inside? Had it been to see the Hackensaw Boys? One will never know, and it didn't bother me enough to stick it in last week's Picture Sunday.
This one's from a while back, when I went to a Virginia Tech football game with my sister and her family. The folks tailgating beside us did so from a decorated conastoga wagon. Well, it was cute, in a "look at us" kind of way, and they had a big cast-iron pot of beans, and they seemed friendly enough so I asked if Sherman could get a few "action shots" from their wagon. They were nice enough to say yes, and here's one of the few I took.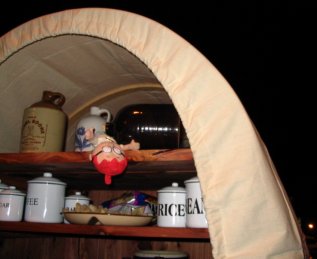 Here's the boy, joking around after playing with the wagon's "little brown jug." What a card, but still, it didn't make the cut.
And, speaking of not making the cut, let's get to the recipe du jour. Only this recipe
did
make the cut. Oh, yes, it did. It comes from the "Mr M's Kitchen" file in recipeland. It's one of his personal favorites. Oh, the mornings I've seen him dig into this little specialty. Say hello to "Baked Potato Pancakes."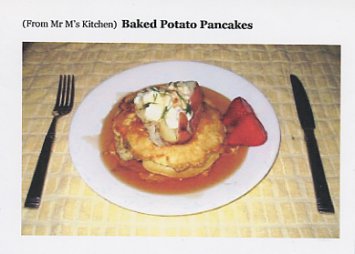 Talk about a breakfast that'll get you up and going for the rest of the day. Going where I'm not sure, but it consists of a heaping stack of three pancakes, hollowed out in the middle to make room for a baked potato. Top your potato as you like, we topped ours with butter, sour cream, and chives, and then top your pancakes as you like, we topped ours with maple syrup. Garnish with the fruit of your choice, or a piece of beef jerky like I've sometimes seen Mr M do, and call it a meal. Well, call it something.
Happy week.
Betland's Olympic Update:
* Watching "Rebecca." Boy, is that Mrs Danvers something else.