Picture Sunday
OK, boys and girls, Picture Sunday is chockful of goodies for you tonight, lots of pictures, so I'll try to keep the yah-yahing to a minimum.
This weekend - yes, The Egg was completed. Mr M worked incredibly hard, and beautifully too, might I add, to bring my vision to life. The painting was completed yesterday, and today was the massive clean-up. Not of the paint and that, but of the getting everything clean and back to its rightful place.
To start out with, two pictures of the old kitchen. And I mean the
old
one, folks, these two pics were taken, sans digital, when I first moved into the Pod and thought I was really going to like that green. Little did I know that after about four weeks....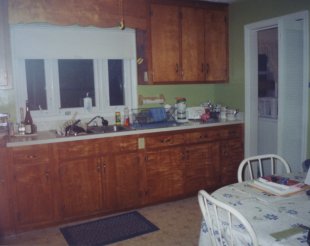 Teehee...remember those old cabinets?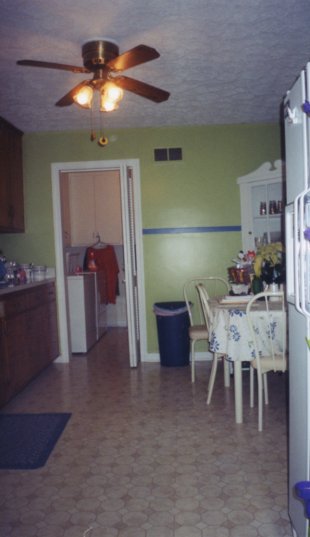 Not so teehee...remember those clean floors?
Well, welcome to the new version.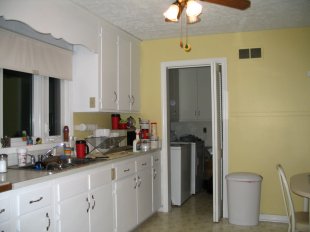 And another view...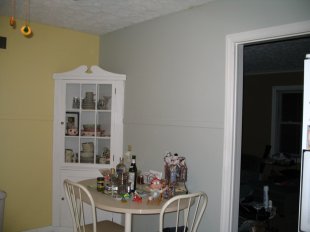 And yet one more view...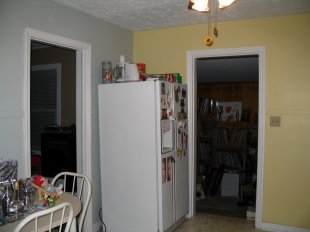 Well,
I
like it, and that's all that counts, right? It's bright, it's cheery, and with a few pictures on the table-side wall, it'll be an egg any woman can be proud of.
Also, and pay attention, there may be a quiz later, while Mr M was working dilligently on the painting yesterday, I was working dilligently as well - on the "hasn't been updated in over 15 months" Comfy Chair website. I started small, although the changes took me almost the entire afternoon.
First of all, I just went wild with Georgia. Flipsy's talking about fonts made me realize that a font was a good way to change the look of things, and so that's where I started. Then I refurbished the links page (
Here
), took out some I no longer go to and updated lots of urls, so that if I ever linked you and you were out of date, you won't be now.
Then
- I really worked hard on the Galerie de Chien et Garçon (
Here
), gave it an introductory page, organized it better, and opened up a brand new wing, the Mr M Inspirational Wing. That's where his artwork is displayed. And I urge you to go there and see some of the goodies. He works hard and deserves his appreciation before he's dead. Oh, or you could just go to the updates page (
Here
) and read about it.
And now all this talk of kitchens makes me ready to present the recipe du jour to you all. It's from the old "weight control" file, everyone loves that one. Say hello to Herbed Chicken and Artichokes!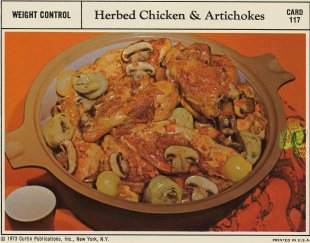 OK, so it's ugly, we were all expecting that. And it has some slimy looking chicken, some gray mushrooms, and it's in a presentation bowl. But grapes? Herbed chicken (the card says thyme, parsley, and a bay leaf) and grapes? Now that's just icky. Plus, my "you're supposed to weigh 110 pounds" doctor says of all the fruits, grapes are about the worst you can eat. Maybe they didn't know that then, or maybe a doctor who thinks I'm going to end up weighing about what my skeleton weighs doesn't know his fruits, either.
The card also says we'll be having this dish with canned peaches and a green salad with buttermilk dressing. Buttermilk? OK, I'll shut up now.
Happy Week.
Betland's Olympic Update:
* I also need some suggestions, my faithful friends. I'm looking for a new feature for The Comfy Chair, since I don't update the True Hollywood Story or Behind The Music anymore, and since we haven't made a movie since God was in the third grade. Mr M suggested "What's Up At The P?" where I'd take pictures of things at my house and talk about them, and that's not bad. Anyone have anything else they'd like to see?