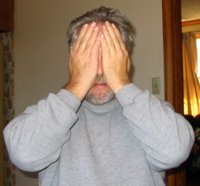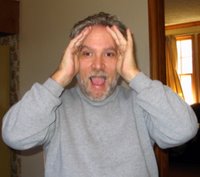 I

Seeeeee

You!
Well. This past weekend I had an opportunity one is not often afforded. I got to interview a genuine sports champion.
I happened to find out, quite by surprise, that our own Mr M, yes, that man, was a championship Peek-A-Boo player. I had no idea of this fact until we happened to be out at a restaurant and there was a baby close by, and he revealed it to me. It was a shock, and fascinating, to say the least. I hated to impose upon his celebrity for the sake of my blog, but not that much, really, and in fact, I didn't mind at all. I mean, it's the
blog,
man.
So I asked for an interview re the apparently cutthroat world of competitive Peek-A-Boo. And Mr M was nice enough to grant me the interview I wanted.
ME: So, what kind of champion were you? Primary school, state, city-wide? What?
Mr M: I was a National Champion. In fact, I was the reigning National Champion when they did away with competitive Peek-A-Boo.
ME: So is that why I never hear of it anymore?
Mr M: I'm sure it is. It was pretty much my doing as well. I was doing a Peek-A-Boo with a baby, and the baby started crying. The baby was subsequently removed from his parents' home, and I was charged with child abuse. Competitive Peek-A-Boo was banned in the US, and after that if I wanted to compete I had to go to places like Dresden. Still do.
ME: Still? Even
now?
No age limit on Peek-A-Boo?
Mr M: Of course not!
ME: How did you get started in Peek-A-Boo?
Mr M: I was very young - Mom always encouraged me, when she first saw me do the Double [double-handed peek] she knew I had the gift. You know, I perfected the Lateral Peek-A-Boo before age 15.
ME: So it didn't embarrass you to be a Peek-A-Booer at 15?
Mr M: What are you implying?
ME: Well...that it's for babies.
Mr M: No. They have a stable of professional babies for these competitions.
ME: So, did you babies face off against one another, or did you compete for points with an adult?
Mr M:
Jesus Christ!
Do you not understand how Peek-A-Boo
works?
Goddammit, man, didn't you do
any
research before you came to interview me?
ME: It's Peek-A-Boo. I assumed it was, well, babies Peek-A-Booing.
Mr M:
No!
I was the Peek-A-Boo
er
. The babies are the Peek-A-Boo
ees
. They have professional babies there for the Peek-A-Booers to play Peek-A-Boo with. And the competitors draw lots to see which baby they Peek-A-Boo with.
Jeeezus
. I mean, I was 23 when I won my National Title.
ME: You were the Peek-A-Booer.
Mr M: Yes! Peek-A-Boo
ER
. [demonstrates with a two-handed Peek-A-Boo]
ME: Tell me about your championship match, then.
Mr M: It was against Boris Platnik. He was a great Peek-A-Booer from Pennsylvania.
ME: And did you play Peek-A-Boo with the same baby?
Mr M: Are you listening to anything I
said?
They have a stable of babies. You draw lots to see what baby you Peek-A-Boo with.
ME: Oh, OK. And what was your baby's name?
Mr M: Oh, we weren't allowed to know that. We couldn't know their names because there can be no familiarity between Peek-A-Booer and Peek-A-Booee. It wouldn't be fair. I won my title with Baby #5.
ME: And what about Boris? Does he still Peek-A-Boo?
Mr M: No, not since that match. It unnerved him to lose, and he gave it up. He runs a delicatessen in Pittsburgh now, and has nothing to do with the Peek-A-Boo world. Shame, he was an OK guy, and good Peek-A-Booer.
ME: Exactly how does one score in Peek-A-Boo?
Mr M: Well, you can get a big score with timing, and by the payoff on the baby's face. Like, Boris elicited a great reaction time from the babies, but didn't have a lot in the way of facial payoff from them.
ME: Ahhh, so there are "style points."
Mr M: Oh yes. It goes on how quickly your baby reacts and the degree to which he or she reacts. If your baby cries, of course, it's a disqualification.
ME: And your relationship with Baby #5....
Mr M: Was great. Laughed, gurgled, beat his hands up and down, it was great.
ME: And you know nothing about Baby #5?
Mr M: Well, I know he's now the branch manager of a bank in San Francisco, is married, and has 2 kids of his own. He occasionally sends me a line.
ME: Can he do that?
Mr M: Sure, it's been long enough. He still signs his letters Baby 5, though.
ME: Did you have a Peek-A-Boo coach?
Mr M: Well, not as such, but I was helped along by my Uncle Sam, who was a very loveable guy. He taught me everything I know, except of course my "unfair advantage."
ME: Unfair advantage?
Mr M: Well, I probably shouldn't mention, but you know I
did
have an unfair advantage over all my competitors. My wonky eye. Babies went crazy over my wonky eye.
ME: But it was legal, right?
Mr M: Oh, sure, it was legal, that's what drove the other competitors crazy. Especially Boris.
ME: And why was the wonky eye such an advantage for you?
Mr M: Because I could Peek-A-Boo with
two babies at once
. And occasionally I'd be accused of "wearing down" the other competitors' babies.
ME: So, what did you win for getting the national title?
Mr M: Squat.
ME: Well, shit. Then what was the motivation?
Mr M: You have to ask?
ME: Yes!
Mr M: Prestige! Product endorsements! Sunglasses, eyedrops, Venetian blinds, window shades....
ME: We're always reading about performance-enhancing drugs in sports today. Was that ever a problem in Peek-A-Boo?
Mr M: Not a lot, no. Murine was something of a problem, and brain concussions.
ME: Excuse me?
Mr M: Occasionally people would give themselves brain concussions.
ME: People actually did that.
Mr M: Oh, you bet they did. They'd bang their heads against the wall of the waiting area till they gave themselves a concussion, then only one pupil would dilate. That always seems to fascinate a baby, one dilated pupil. You know, Peek-A-Booers have a patron saint.
ME: They do?
Mr M: Yes. St. Blinky
ME: Sounds like you all need one, if you're giving yourself brain injuries....
ME: What about dress? Is there a Peek-A-Boo uniform?
Mr M: Oh, yeah. We have to dress all in black clothes, wear a black hooded jacket we put up over our heads, so the baby can't see our hair. No makeup can be worn. And of course, no contact lenses.
ME: Did you ever worry about eye-poking?
Mr M: Constantly. I had my eyes insured by Lloyd's of London. Then after I became more and more well-known in the Peek-A-Boo world, I went ahead and insured my face and hands as well. Oh, by the way, did you know that in the style points of Peek-A-Boo, you get a bonus if you can get snot to come out of a baby's nose?
ME: No, I didn't know that, but thanks for telling me.
ME: What about your clarinetting career? Did Peek-A-Boo interfere with it at all, or was there any relation between the two activities?
Mr M: No, no. [pause] Well, that was dull. Well, actually, it was
dumb
. It was a dumb, dumb question. Nonsense. Now, go to bed.
ME: No, wait, I have one more question. Was there anyone you looked up to, any Peek-A-Booing idols?
Mr M: Well, not Peek-A-Booing idols, but there were certain people whose eyes and facial expressions certainly inspired me. Let's see, there was Arnold Stang, Ed Wynn, Boris Karloff, and Sidney Poitier.
ME: Sidney Poitier?
Mr M: He had nice eyes. And rumor had it on the vine that Arnold Stang was in fact a hell of a Peek-A-Booer.
ME: Oh.
Mr M: Are you finished now?
ME: I guess.
Mr M: Good. Go to bed.
And so I did.
Betland's Olympic Update:
* Acrowinners, get your red-hot acrowinners here. So, what about the Acro Blend?
- Honorable Mention goes to Krizzer, with her "Relieves that no-good hangover."
- Runner-up goes to DeepFatFriar, with his "Rare, truly New Guinean hutzpah."
- And this week's winner is LilyG, with her "Robust tasty nectar goes Hollywood." You know, I can really see that up on the chalkboard. And I can really see myself ordering it.
Thanks to all who played! And remember, if you're like the Friar and can't get in anytime, just email me (agnes_g@hotmail.com), messenger me, phone me...anything.