Boo!
Oooooh.
Ooooooooh!
Yes, it's Halloween, that spookiest of days. Actually, that's not all that true, Halloween isn't spooky anymore, although it
is
rather a hard holiday to bear for someone like me, who has this innate and unnatural fear of opening her front door. It's not like I fear being killed or anything, I think it's the spinal goose I get from hearing the doorbell and realizing I have to face the unknown on the other side. Usually my mother, come to stare at me.
Anyway, I'm making the holiday a little more scary for myself by dressing up as a single middle-aged woman trying to hold it together, and also by indulging in that most terror-inducing of activities, paying bills.
Aaaiiiiieeeeeee! The Citgo Card!
The nephew, who you've all seen pictures of and can attest to the fact that he's certainly a very white boy, went to school today as Flava Flav. I don't know what fact about his outfit excited him more, that he got it all together for $20, or that today in English class he had to recite from Macbeth and would do it dressed as Flava Flav. Both are very exciting, to be sure.
My favorite baby, Kendall, came to see us at the office, she was a cowgirl. Complete with pink cowgirl boots, hat, and two six shooters, which thankfully were fake. That girl has the meanness in her, and I give her till about Jr High to replace the toy guns with real ones. Then of course, she'll charm her way out of a prison sentence after she shoots up the town.
Of course, there's a Halloween party at The Pod tonight. It's Sherman's favorite holiday, even over July 4th, and that's his birthday. He just went wild this year, designing everyone's costumes. Funny, because he's been (of course) Shermula for the last two years running, but decided to go with something different this year. He decided he'd go as Hermey the Elf Dentist. Check out his costume.
Amazing, I say.
Now, Huckleberry Hound thought it would be a real laff-riot if he went as another famous dog, and so Sherman helped him work up a costume as Astro, from The Jetsons. Pretty good, huh?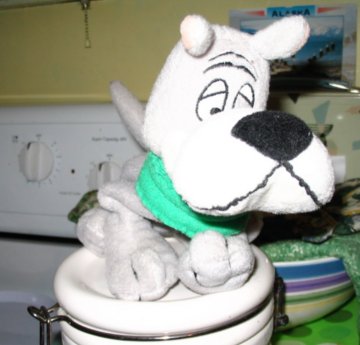 Good Luck Baby Lily may be just a baby, with a hole in her midsection, but she's also a free spirit at heart. She decided to be a beatnik this year. Boy, did they have fun with the wig and the eye makeup.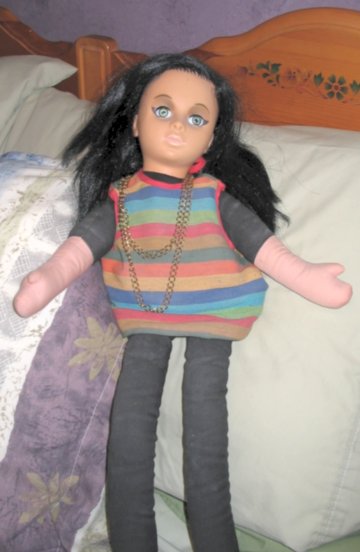 Mr Peanut's always a good sport, and thought maybe he could be some other sort of food. Sherman suggested a parsnip, and got going on the outfit.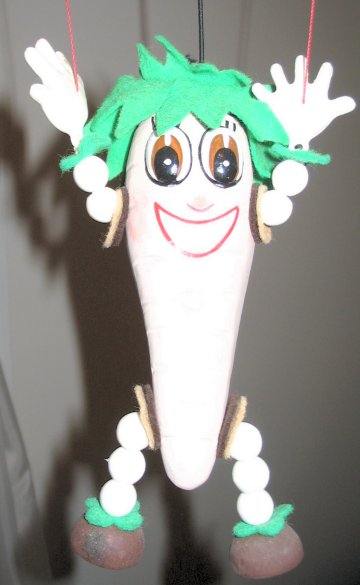 And I think Gossamer's costume was particularly fetching this year. Of course, he didn't know what to be for Halloween, as he doesn't know what Halloween is, even though he sure does love candy. Wrapper and all. And the plastic pumpkin he uses to collect it. Handle and all. Sherman came up with this idea - a dustmop.
And finally, that master of disguise (and everything else) Mr Peabody designed his own Halloween costume. He's been working on it for weeks. He chose to be a water cooler.

Of course, he's an actual working water cooler. He's been dispensing drinks to everyone at the party. Except me. Not that he didn't offer, I'm just holding out for something a little harder than water. After all, I'm going as a single middle-aged woman trying to hold it together. I have to stay in character.
Betland's Olympic Update:
* Acrowinners, we have acrowinners. So, what did yall go as on Halloween?
- Honorable Mentions go to Kellie, with her "Alien dominatrix Natasha Torres," and Lily, with her "A damn Nazi terrorist," and Flipsy, with her "Arkin's dark, naughy twin." Ooh!
- Runners-Up go to DeepFatFriar, with his "A dentist; nude, toothy," and Froliche Fluegelspeiler (also known as Russell), with his "Absolutely disgusting, nude trumpeter." Russell! You're supposed to
dress up
for Halloween!
- And this week's winner goes to Michelle, with possibly the best idea for a costume I've heard of. "A dead, nebbishy turtle."
- Thanks to all who played - handouts from the real candy for you all!