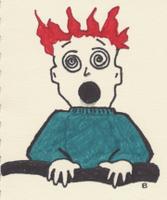 *Zoooooooom!*
Seems there'd been some complaints in the old suggestion boxes we have set up in the various restrooms at Betland. (We set them up there because we figure that's where our patrons are most comfortable and therefore most likely to be honest.) Mainly those complaints were directed towards our feature attraction, the Emotional Roller Coaster. "Not scary enough!" some screamed. "Too flat lately!" others yelled. "I cried tears of boredom!" a few shouted. "The most boring ride since 'It's A Small World!'" still others said. And one person said, "Made me want to eat my own vomit!" and we immediately found him and threw him out. After all, we do have our limits.
And so we got the special engineers back to their desks for a redesign. And really, they
are
special guys, if you consider "just released from the Albert DeSalvo Hospital for the Criminally Insane" special. They designed a dip in the workings of my psyche guaranteed to whiten the knuckles of any loyal patron. In fact, one poor soul fainted dead away and we had to call the paramedics, and what with the current litigious nature of the country, that's not really a good thing. So we just closed Betland for a few days to have a think about it all.
We thought. We holed ourselves up in the Poderosa. We pouted and wondered, about all those things in life we don't understand. And why we don't understand them. And why we let it eat away at the very core of our being
why
we don't understand them. And then on Sunday when we came perilously close to picking up a hitchiker on the Betty Bet Bet Inspirational Highway, we decided that maybe we were going a little too far over the edge. An edge from which there is sadly no return, as with hitchikers there is always the distinct possibility that they could smell bad or kill us with a knife, and at that point we thought that possibly some complaints about the boredom of a flat roller coaster could be tolerated.
And now we at Betland find ourselves on the horns of a dilemma. But not to worry, dear readers and park-goers, because we here at Betland are
always
on the horns of some dilemma or other. Frankly, Betland's posterior regions are in a constant work because, to be honest, it's not easy sitting on horns 24 hours a day, every day of one's life. But we do it, because our ass knows nothing else.
But it does beg the question: When one is faced with such dilemmas in life, how does one handle them effectively?
We here at Betland have spent the better part of our life thinking way too much about things, as evidenced by that most frightening of park attractions, "A Barefoot Walk Through Bet's Mind." We've had to raise the age limit for attempting this ride several times, from age 14, to 16, to 18, to 21, to its current 43. Eventually a good deal of the public at large will not live long enough to be able to access this particular ride. Which is probably a good thing.
But we digress. Where were we anyway, in this quagmire of Betland Affairs? Oh, yeah. Here. What good is thinking to excess about one's lot in life, when the responding action to these thoughts is approximately nil? And we suppose the answer to this rhetorical question would be, "Well, not a damn bit, we guess."
And now we must tell you, my friends, that this is where tonight's blog ends. Not because we stopped it there, for we didn't. We at Betland actually saw this blog through to its end. It was interesting, long, slightly scary at times, thoughtful, and, if we may say this, and believe us folks, we rarely use the term in conjunction with anything having to do with us, possibly brilliant.
Then as we were saving the remainder of the blog before publication, everything crashed and it all was lost.
Seems odd things are afoot at Betland. No internet on Sunday, then when Mr CableModemGuy came to check things out, and told us nothing was wrong, he went a few places and unchecked a few checks, and nothing's worked the same since. We are of the suspicion that Mr Modem may actually be an alumnus of the above-mentioned Albert DeSalvo Hospital for the Criminally Insane. Or else he had a problem in visiting Betland for a service call instead of to take advantage of the rides and attractions.
Or maybe it was the hand of God that stopped our blog from its publication. The same God we suggested in the lost blog could possibly fuck off (if indeed we decided to try Abject Apathy as our next life course, and we weren't particularly leaning in that direction, as we weren't particularly leaning in any direction whatsoever, which was basically our problem). Maybe God said, "Hey you answered that question, with 'Not a damn bit.' Now zip it, open your park back up, and get on with your life before I smite it out."
Whatever the case, we here at Betland are back in business, at least till we push that surprise button on the keyboard that blows us all up. And if writing is therapeutic, as they say it is, and who are we to disagree, maybe just getting the first draft up on the screen was enough to satisfy us.
But we're not buying a word of that. It was
bloggus interruptus
in the first degree. But as we ended the original blog, this too shall pass, and life at Betland shall get back to normal.
Oh, wait - this
is
normal, isn't it?
That's
the scariest ride we have.
Betland's Olympic Update:
* Stay tuned for our next blog. It's complete and you'll love it.
And
- I didn't write it!